How OLM to PST Converter can Simplify the Conversion Process?
How OLM to PST Converter can Simplify the Conversion Process?
Conversion of OLM files to PST is a daunting task, and the pain comes best into the experience when someone tries to convert Outlook for Mac data file (OLM 2011) to MS Outlook data file (PST). Even if they get a solution, they keep on hovering around how to convert OLM to PST. In this regard, Stellar OLM to PST Converter offers the best service as it fits well with MS Outlook 2016 also.
How to Convert OLM to PST and Top reasons to go for it:
Fair compatibility standards:
The software shows greater compatibility with the wide range operating system such as Windows 10, Windows 8.1, Windows 8, Windows 7, and Windows Vista. Similarly, the service works well on Microsoft Outlook of versions 2016, 2013, 2010 and 2007. It demands only 50 MB of free space inside your hard disk and recommends the system to have minimum 2 GB of RAM. This level of compatibility is a rare view by many best OLM to PST converter.
Preview
After you have called the OLM file in the software, you can view its items before you can actually save OLM to PST.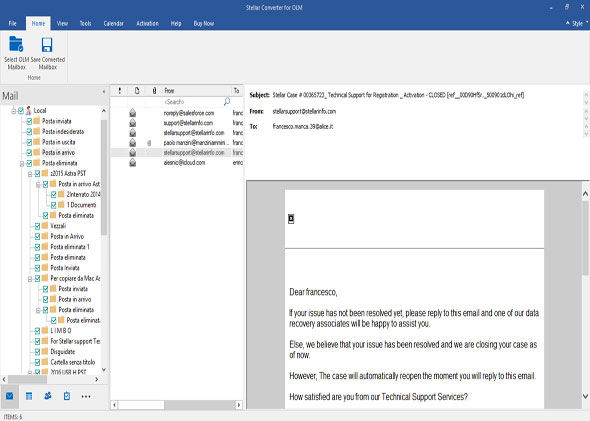 Captivating User Interference:
The graphical interface aims at providing an easy-to-use feature to its users. The simple screen hosts all requisite Menus and Buttons those are easily noticeable and quickly accessible.  Select the file you want to convert with "Select OLM Mailbox" and save them with "Save converted mailbox". To view the complete recent activity history, use the "Log Report" from the View menu.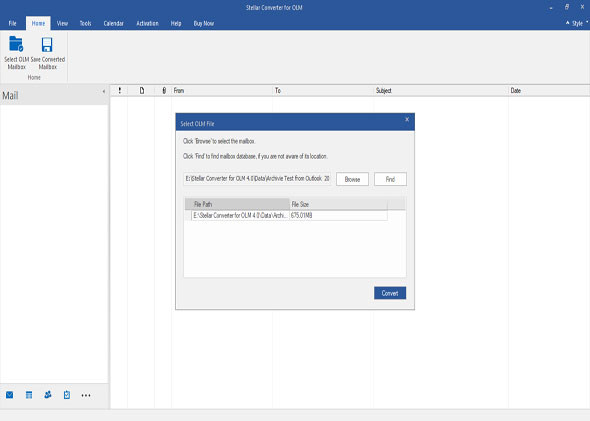 Easy to go Premium option:
The software comes with the Demo version. If one likes the feature, he can go for the premium feature just by clicking on "Register Stellar OLM to PST Converter" under the 'Registration' button. Even, by opting Stellar OLM to PST Converter one can easily transfer the license from one system to another.
24/7 online and offline helpdesk support:
Through a 'Help' option present above, one can access the online manual for an easy step by step guidance on how to convert OLM to PST. Also, the presence of 'Knowledgebase' hosts numerous articles depicting solutions on common FAQs that users usually face on their first use. To get connected with the technical troubleshooter team, click on 'Submit Enquiry' button and send your doubts as a message. There also present is the Live chat feature with the technical experts online on the official website of Stellarinfo. Also, if one wishes to talk live, can go for different toll-free hotline numbers dedicated to different geographical locations on their page.
Intermediate bug fixing features:
The software comes with new updates and so does this OLM to PST convert software too. The makers constantly keep on trying revamping the product to make it more usable hence they add new functionalities as well as integrates extra services to the application. It can be availed by updating the software by clicking on the 'Update Wizard' icon present on the toolbar.
The latest version of this best OLM to PST converter got released in March 2017 with a titled version of 2.0. The software can be used on a single system only through 'Single User License' and on opting for 'Tech user license' can be used on multiple systems at a single location.
With these awesome features, you can also try this Stellar OLM to PST Converter absolutely free. Click here to download the software or click the image below.
Note:
We suggest you to create a copy of your OLM file before you start the OLM to PST Conversion using Stellar OLM to PST Converter or any other such converter. It is a precautionary step that will save you from data loss in the case of any system malfunction.
Deepak Gupta is a Freelancer. He does freelancing related to Ebook Conversion, SEO, SEO Copy writing, Guest Blog Posts, and much more. He can be contacted at
http://www.fiverr.com/weformat
Latest posts by Deepak Gupta (see all)
(Visited 2,329 time, 1 visit today)